Italy is home to some of the most acclaimed furniture designers worldwide. They include Gio Ponti, Ettore Sottsass, Ico Parisi, Gianfranco Frattini, and others. The country is also famous for high-end luxury products like sports cars, couture fashion and fine art.
Italian's craftsmanship when it comes to home furnishing also enjoys a similar reputation from centuries of tradition, history, and style. Both their contemporary and traditional handmade designs exude class and comfort and are highly esteemed and regarded worldwide.
In this article, we look at why investing in an Italian made furniture is unique and an ideal touch for your home.
What goes behind an Italian Made Furniture Product
Italian handmade furniture like sofas are bespoke items crafted by hand. The manufacturers use traditional furniture-making techniques like hand carving when working with the leather. Thus, each piece features elaborate motifs, inlaying and marquetry decoration that makes it unique and classy.
However, handmade furniture takes a long time to produce and is often more expensive. The designs are usually traditional but incorporate modern materials like steel and use blended fabrics comprising of natural and synthetic fibers.
In comparison, contemporary designs mix conventional and modern materials and fabrics. For example, a Nicoline Italia luxury sofa may be crafted with full-grain leather upholstery but mounted on a steel frame.
Why Choose Italian Furniture
Italy's rich culture and history in art and architecture influences its contemporary furniture design. Italians, like the French and Germans, appreciate fine craftsmanship.
You can see it in their cuisine, fashion, and luxury products.
According to an industry report by Mordor Intelligence, about 40% – 50% of all luxury furniture is produced in Italy, making it one of the fastest-growing industries in the country.
Additionally, the increased focus on aesthetics and craftsmanship makes Italian products desirable for high-end clients as compared to products made from other countries like China.
Here are some features that make Italian handmade sofas highly coveted worldwide.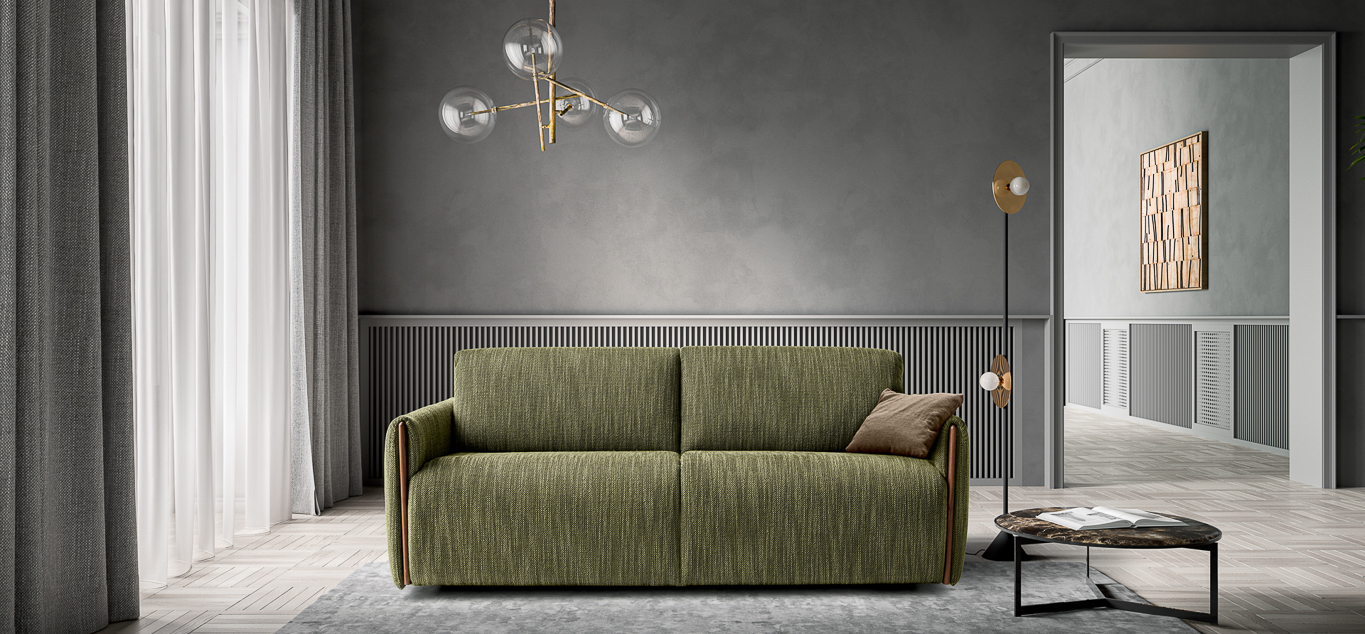 Features of Italian-made Sofas
Italian handmade sofas come with various unique features that make them special. These include:
Materials
Traditional-style sofas feature hardwood frames with leather or fabric upholstery.
Italian leather is deemed as fabrics of high quality, and alongside that, Italian sofa makers also use natural fabrics like velvet, wool, or cotton. Natural fibers have a soft and luxurious hand-feel aesthetic, desirable for high-end interiors.
However, luxury brands are now moving towards using blended fabrics. These are performance materials that combine natural and synthetic fibers. Thus, the fabrics are soft, durable, and easy to clean, making them ideal for various uses.
Craftsmanship
Italy is one of the few countries worldwide with a diverse art and design industry. Centuries of innovation and craftsmanship have established Italian product brands at the top.
The furniture goes through a different manufacturing process than factory products. Skilled artisans craft these pieces by hand, making each item unique to the end customer.
The sofa frames are typically made of hardwood or steel and upholstered with leather or high-end fabrics. Handcrafted sofas also feature intricate decorating made using time-honored methods. These include hand-carving and inlaying to create low-relief decorations on the hardwood frames.
Comfort
Comfort is one of the key aspects of furniture design as it determines user experience. These sofas feature materials and construction methods that provide more support and comfort. For example, they use an 8-way hand-tied spring suspension system on the seating part of the sofa.
This method offers the best support, comfort, and durability compared to drop-in coil springs. Further, foam layering on the sofas provides support and cushioning in extended use.
The sofas also feature a hardwood frame construction for stability. The upholstery includes fabrics with a soft hand feel, like leather, wool, velvet, and silk.
How the furniture industry has the evolved
The rich history of Italian furniture begins in ancient Rome. Art, architecture, and furniture drew inspiration from classical Greece. Roman pieces featured bronze and hardwood frames inlaid with ivory or tortoiseshell.
Artisans also used veneering and marquetry to decorate their furniture. Furniture in the Middle Ages featured wood frames with intricate carvings and gilding. New joinery methods discovered then helped the craftsmen make light, collapsible furniture.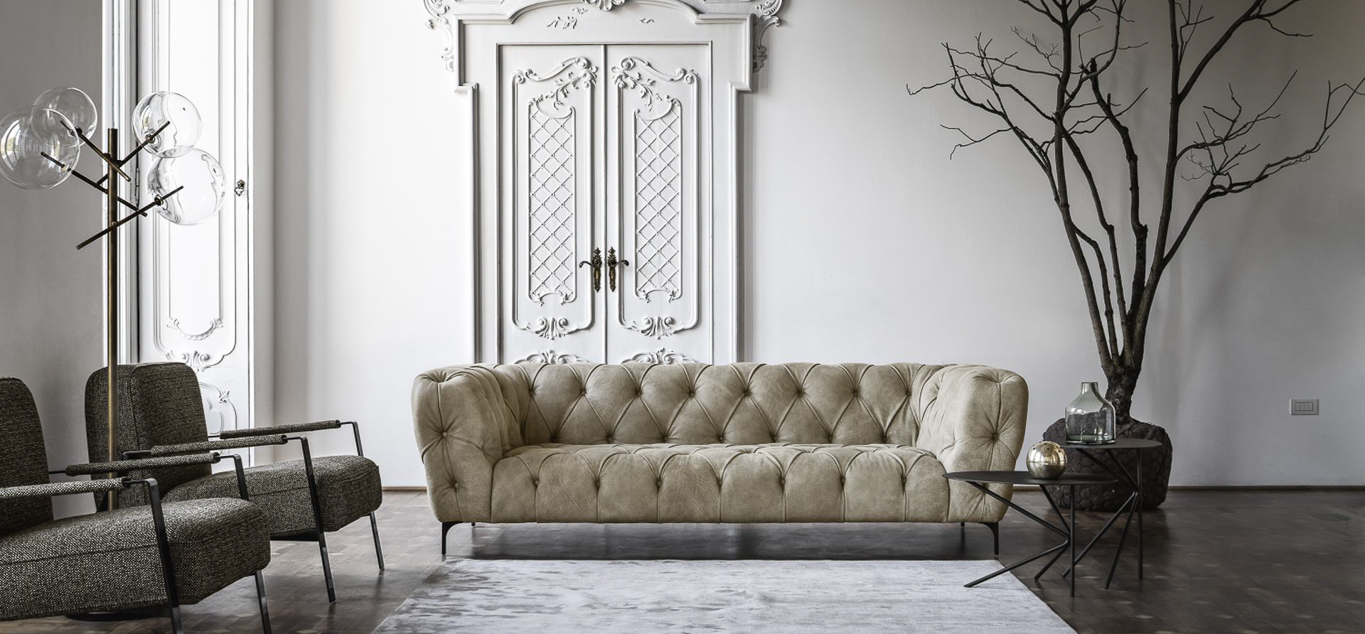 Traditional Italian Furniture Styles
Renaissance furniture focused on the decorative aspects over function. The decoration became more elegant and ornate with gilded surfaces and low-relief carving. Moreover, the styles of Ancient Greece and Rome re-emerged.
Thus, furniture pieces featured symmetrical designs with a unified decorative style. They had an imposing scale with high backs and extravagant carvings on their feet. They also featured architectural aspects like straight lines and columns.
Furniture items, such as the Cassone and the Sgabello pieces, became symbols of wealth in the 16th century due to their extravagant decoration.
The Italian Baroque style emerged amid the Counter-Reformation. Baroque gave way to the Rococo and Neoclassical styles of the 18th and 19th centuries. By the early 18th century, Baroque had already gone out of fashion in France, and a new style, Rococo, emerged.
Rococo was a lighter and more feminine style. It had curvy forms, lacquered frames, and rich, colorful upholstery fabrics.
Sofas had cartouche motifs and cabriole legs inspired by French designs. By the mid-18th century, the Rococo style began to fall out of favor in Italy, giving way to the Neoclassical style.
Italian furniture of this period drew inspiration from the French Louis XVI styles. But, they also featured Italian craftsmanship like gilding and pietra dura.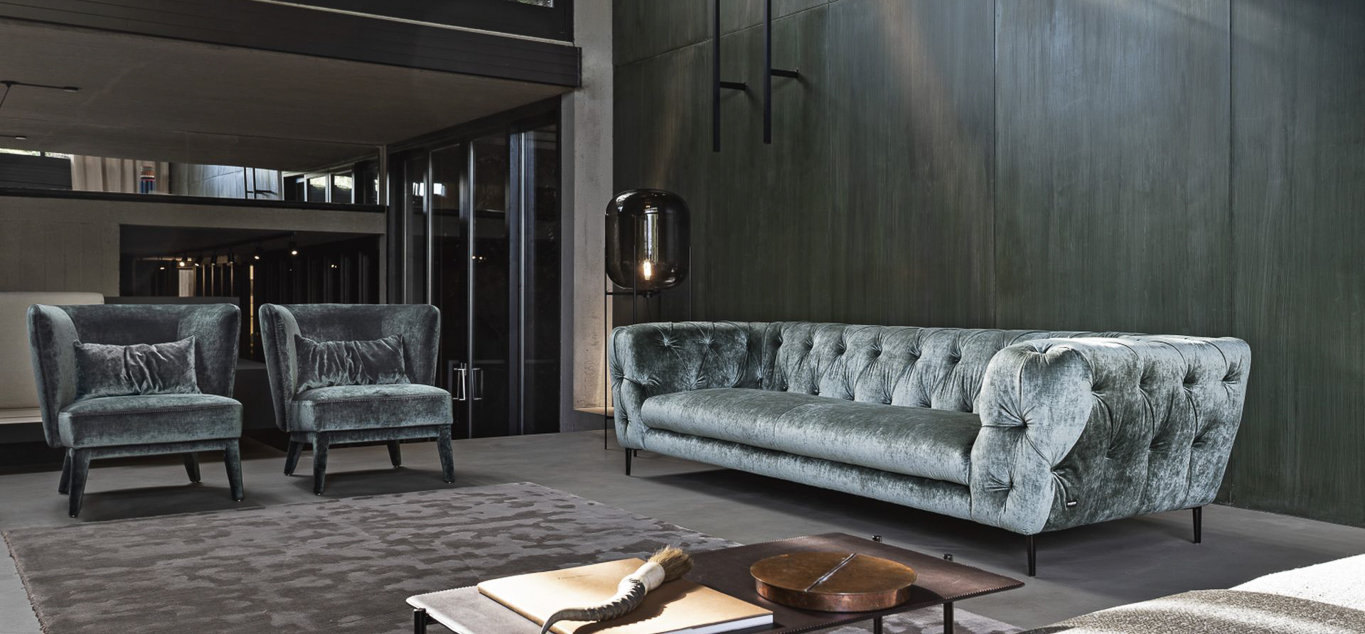 Contemporary Italian Furniture Styles
Modern Italian furniture features a more austere minimalist aesthetic compared to traditional styles.
Additionally, the Italian furniture market has diversified into mass production. Currently, 10% of the world's furniture comes from Italy.
At the turn of the 20th century, new materials like plastic, steel, and glass emerged, allowing designers like Gio Ponti to innovate and revolutionize the industry.
His elegant, refined, and exotic style propelled the Italian art Deco style to new heights. Other designers like Gino Pollini, Guiseppe Terragni, and Luigi Figini pioneered Rationalism. It was a new design movement featuring a simple aesthetic using tubular steel.
As the sixties rolled by, new design movements arose like the Bel Design, notable for its elegant form and use of plastic. Examples include classics such as Giancarlo Piretti's Plexiglas folding chair for Castelli (1968).
Later styles include the New Tone sofas by Atrium and the iconic Memphis bookcase by Ettore Sottsass. While modern Italian furniture has elevated the meaning of style and elegance, handmade pieces attract many buyers due to their exclusive designs.
Conclusion
The history of Italian handmade sofas spans many centuries and encompasses various styles. From Ancient Rome to the present, Italian furniture is synonymous with quality and craftsmanship.
Today, Italian handmade furniture continues to be a symbol of luxury and elegance.
They are highly sought after by design enthusiasts worldwide and are a valuable addition to any space in your home or office.